A man kept a kitten company all the time until she felt better, and ensured happily ever after for her and her sister.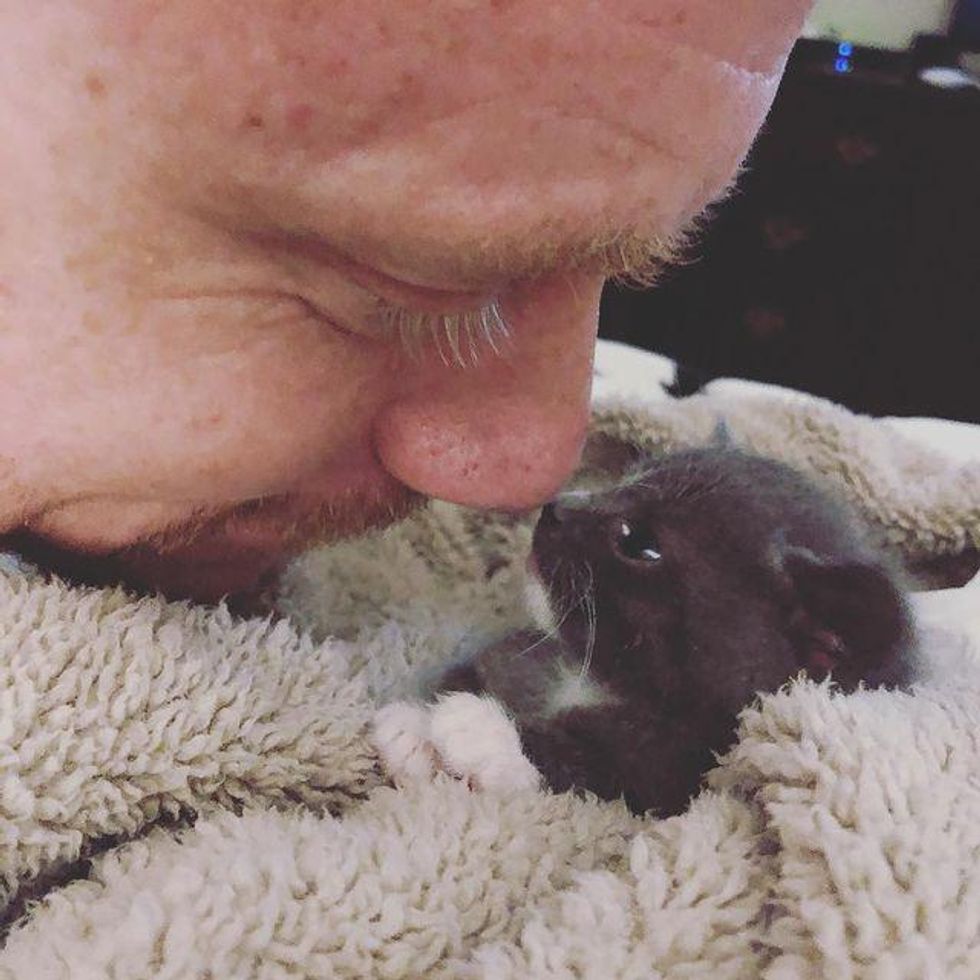 Foster Dad kept Sam the kitten company until she felt betterLaura @fosterkittyfamily
Sam, a grey kitten, and her siblings came to Mini Cat Town, an animal rescue in San Jose, California, as orphans. Sam was just four days old, still had her umbilical cord attached and relied on foster care to survive.
Laura Malone, a director of Mini Cat Town, took them in and started feeding and tending to them around the clock. The kittens hadn't opened their eyes yet but were so glad to be warm and have full bellies.
"Sam had a favorite spot in the back corner of her nest where she fell asleep on her back," Laura shared with Love Meow.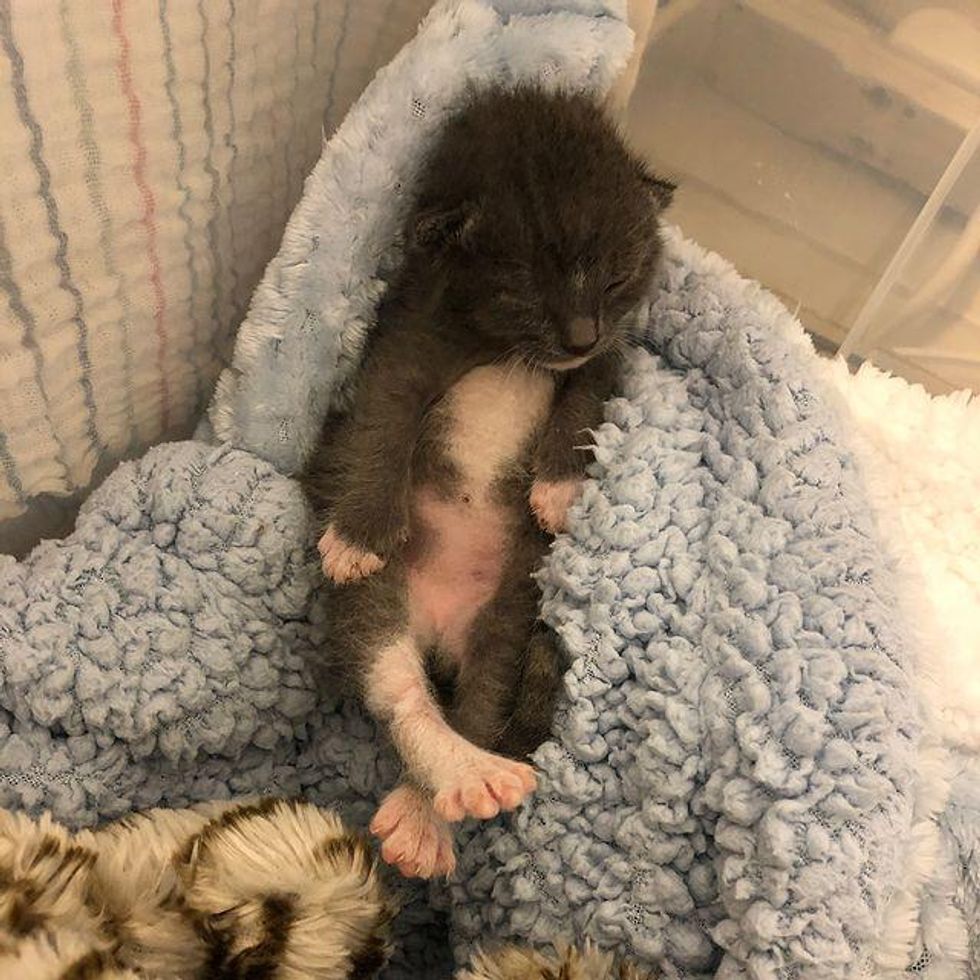 Sam came to Mini Cat Town along with her siblingsLaura @fosterkittyfamily
A couple of weeks later, they noticed something off about Sam when she started to lose weight and her appetite dipped. "Kittens at this age are always fragile – things can change (good or bad) in the blink of an eye."
Sam was unwell and remained low energy, so Laura's husband, aka Foster Dad, came to offer some help.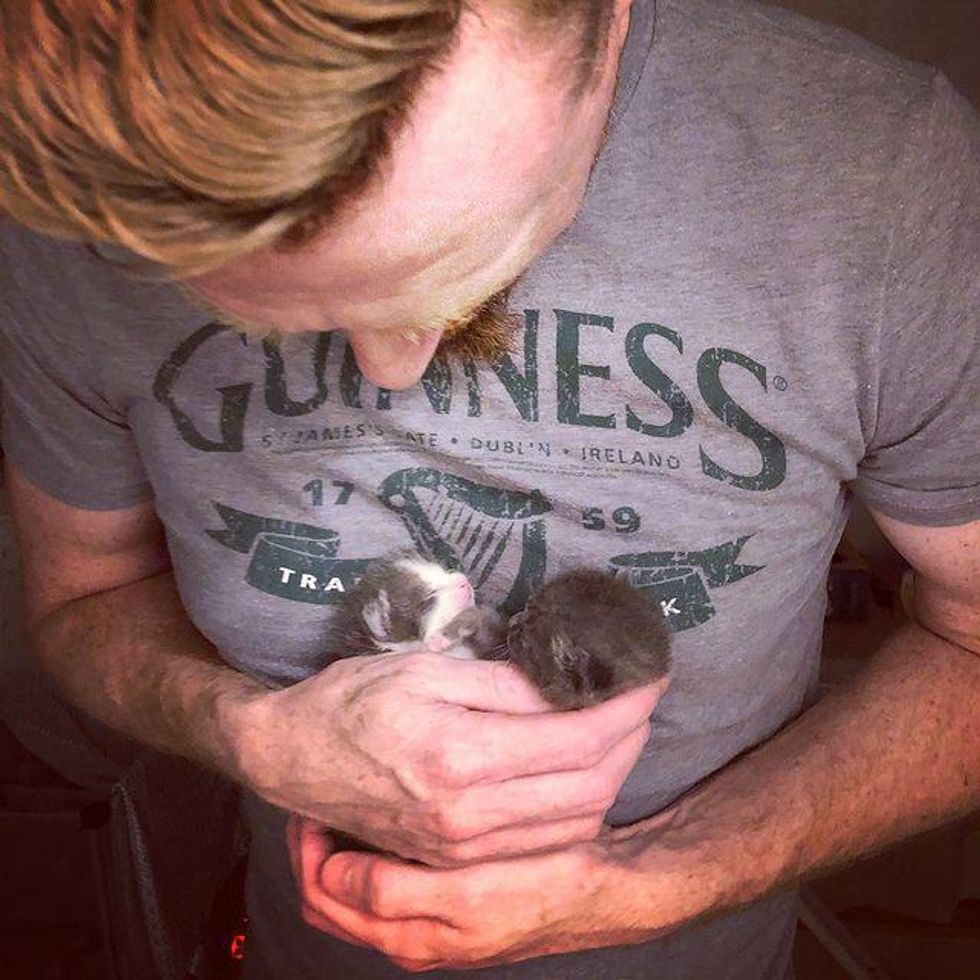 Sam and her sister Jo got some much-needed TLC from Foster DadLaura @fosterkittyfamily
"He loves nothing more than to comfort people and animals when they feel lousy. And he promised Sam he would cuddle her all the time until she felt better," Laura shared with Love Meow.
Foster Dad placed Sam in a soft blanket and kept her under his watchful eye all night. He assured her that she was loved, and watched her fall asleep in his arms while getting petted.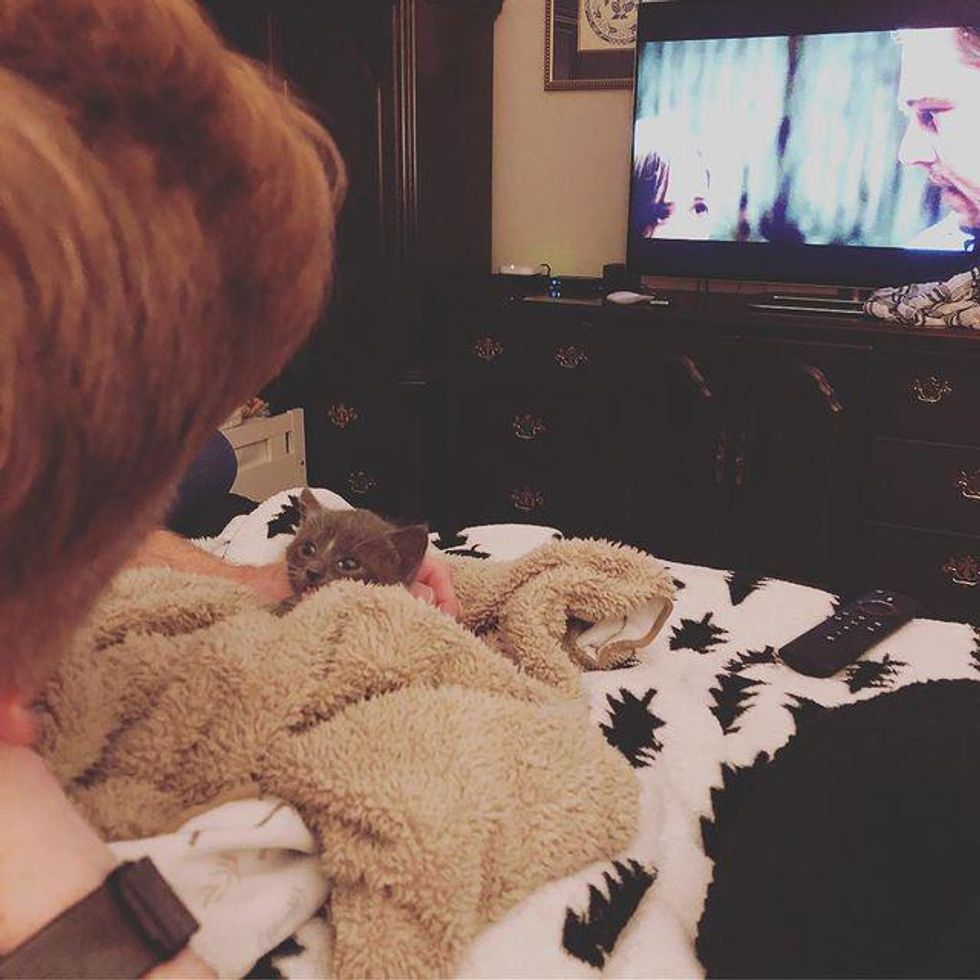 When Sam was unwell, Foster Dad didn't leave her sideLaura @fosterkittyfamily
"When she did eventually start to act more like herself, he very happily declared her to be fixed by him," Laura added.
With multiple trips to the vet, fluid therapy, and a change in her diet, Sam regained energy and was finally back on track. She was eating better and putting on weight.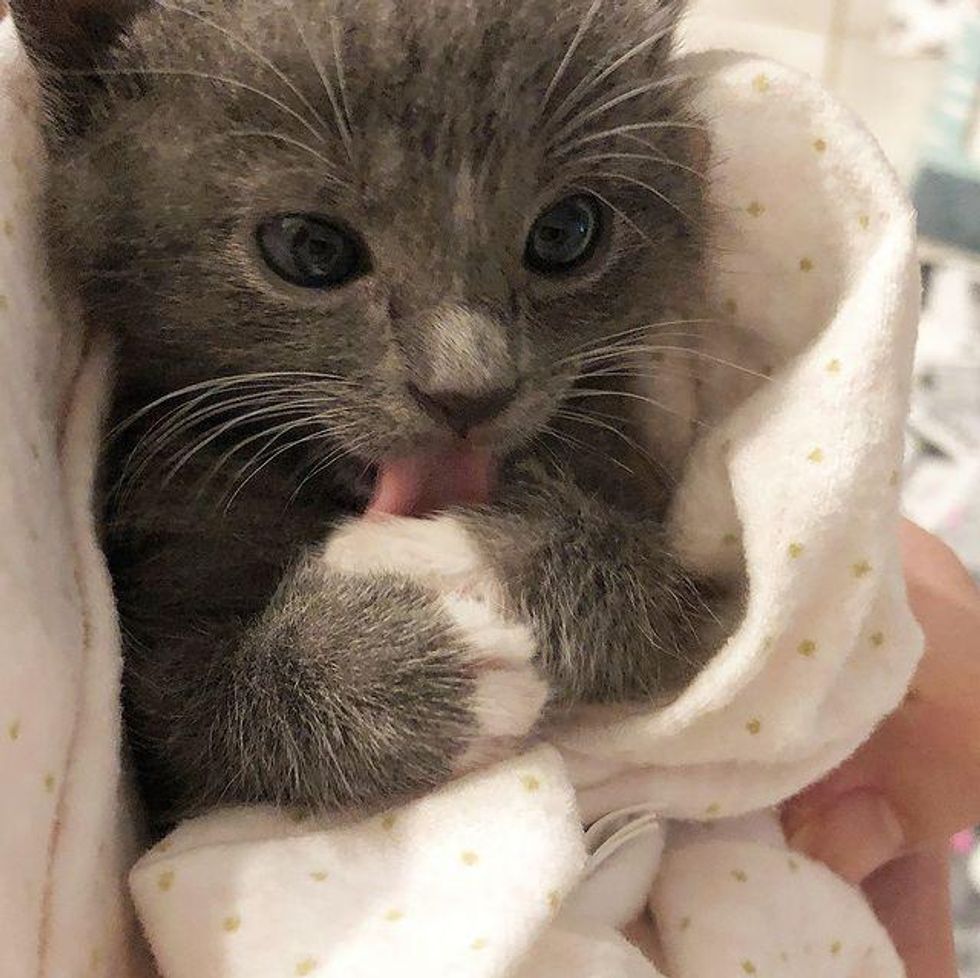 Laura @fosterkittyfamily
When Sam came home after treatment, she hopped onto Foster Dad's shoulders for some intense cuddles. Foster Dad spent ample time with Sam to cheer her on, and she never lacked an ounce of love.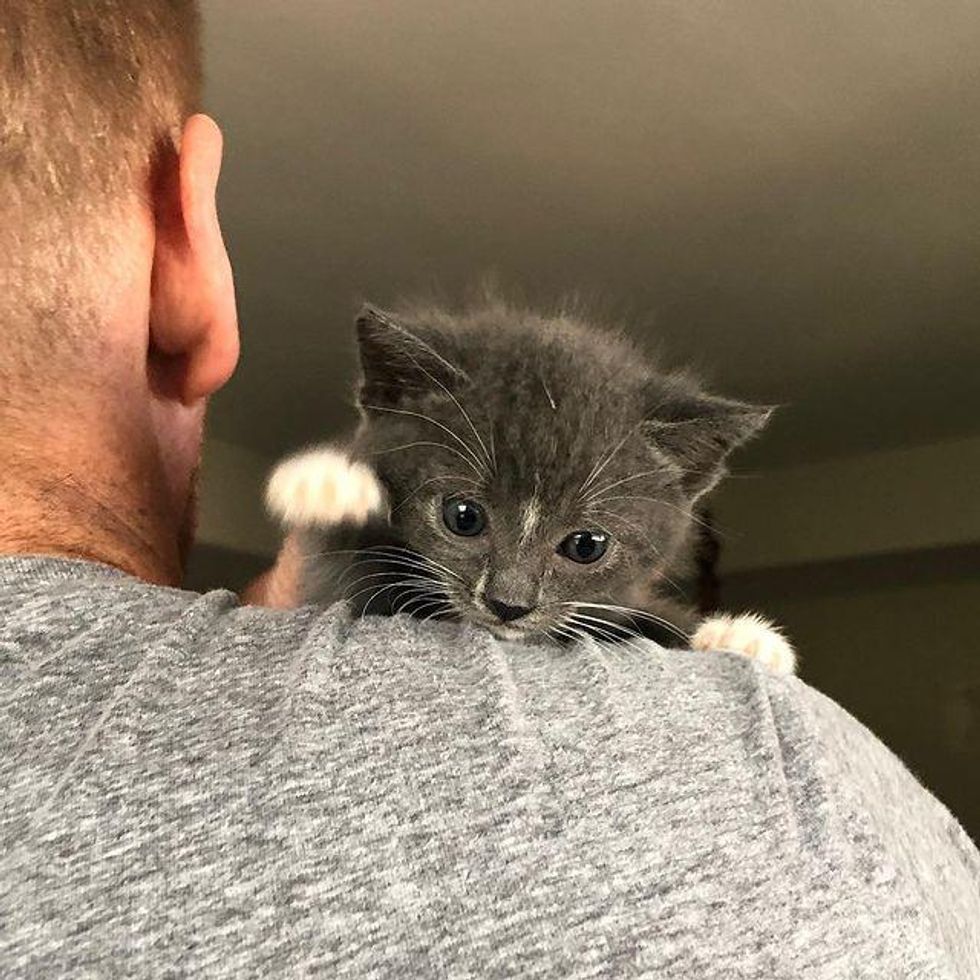 Sam climbed up Foster Dad's shoulders for some intense cuddlesLaura @fosterkittyfamily
Sam could finally rejoin her siblings and scamper around the room like she owned it.
Watch Sam the kitten in this cute video:
[embedded content] Sam the kitten www.youtube.com
"She was active and playful and enjoyed lots of group time with the other kittens. Sam was the tiniest of the whole crew, but she had a ton of personality."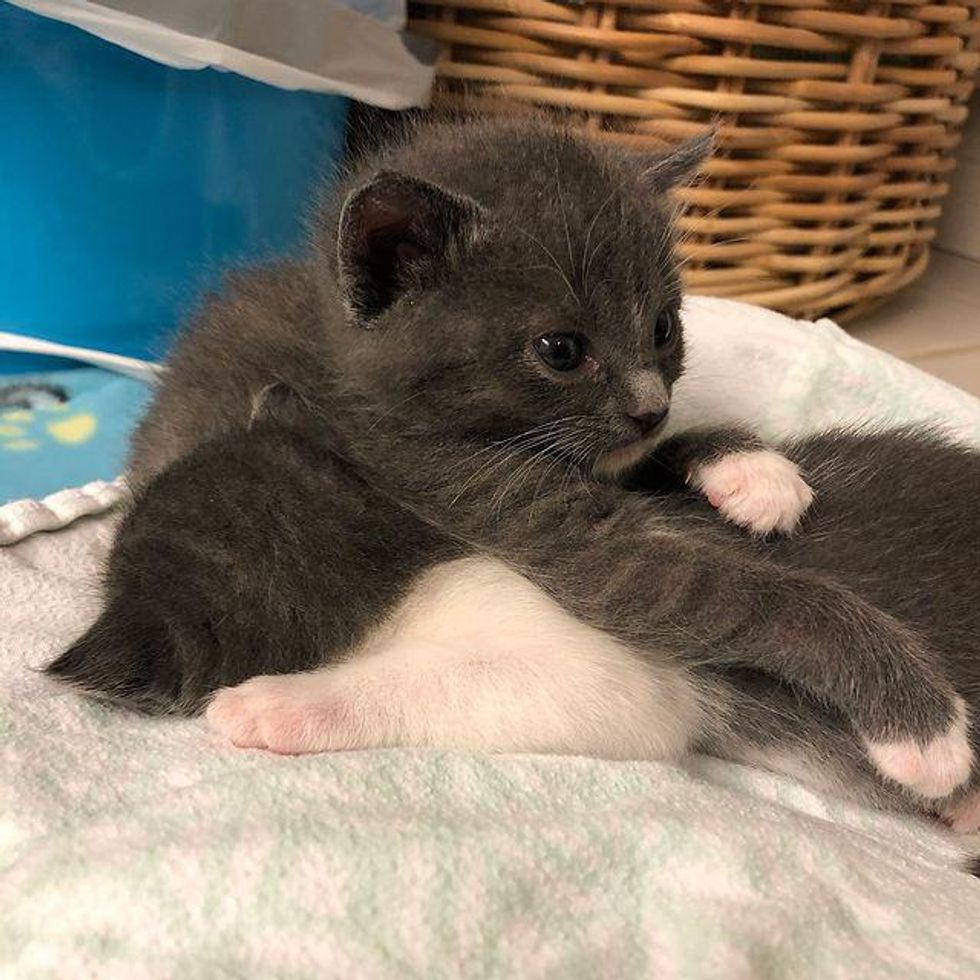 Sam and Jo became inseparableLaura @fosterkittyfamily
Sam and her sister Jo became very bonded. They were seen cuddling with each other during nap time and helping one another hone their feline skills.
They enjoyed kneading on a soft blanket together while purring up a storm.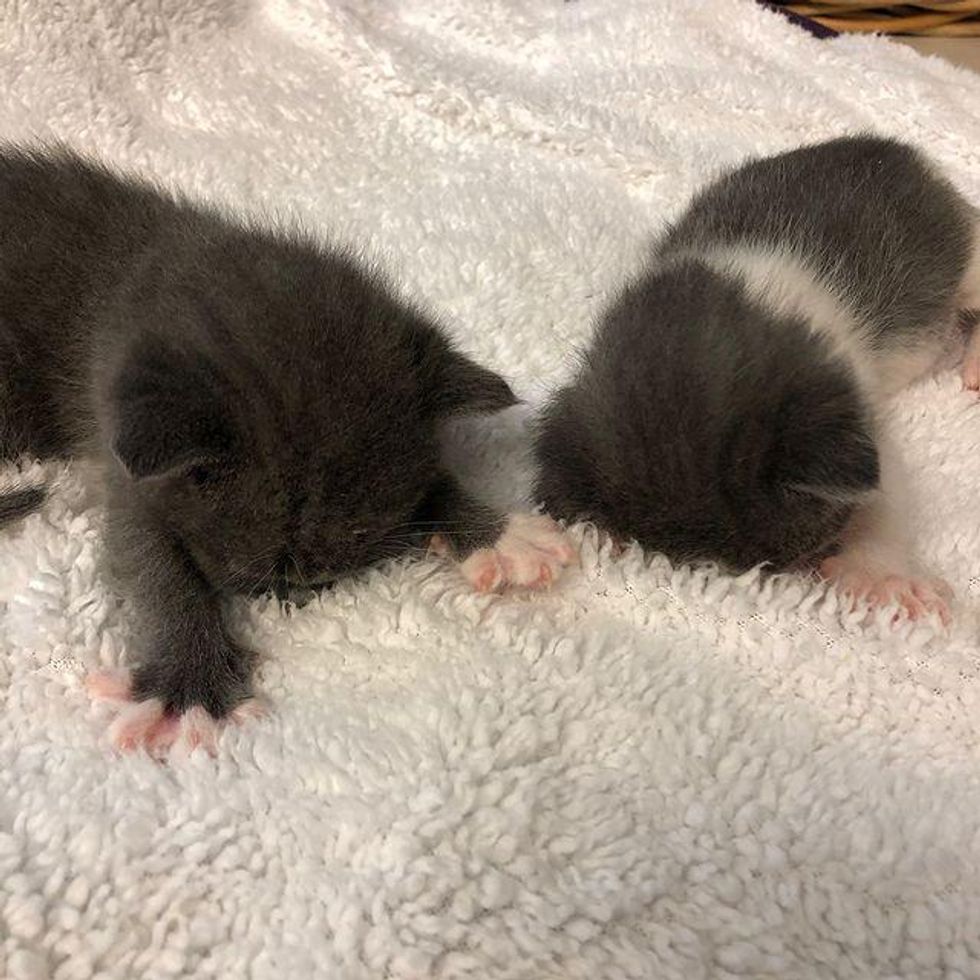 They did everything togetherLaura @fosterkittyfamily
It became clear that the two sisters could not be separated. They played together and rubbed off on each other's energy. "These sisters are goofballs, purr monsters, and they would love to live in a new home with lots and lots of pillows to play in!"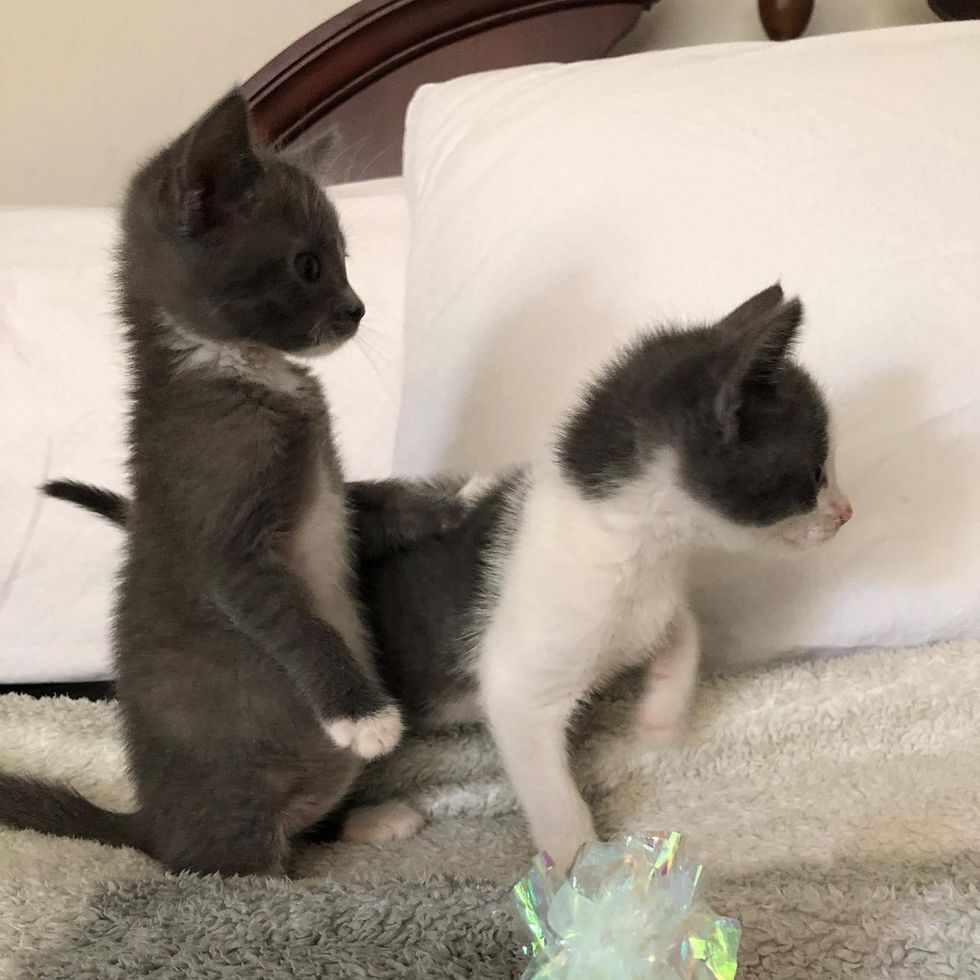 They were both little trouble-makersLaura @fosterkittyfamily
When the kittens were ready for adoption, the perfect family found their way to Sam and Jo. "It was love at first sight for us," the family shared on Instagram.
"We lost our beloved grey and white cat, Bootsie. On the day she passed, I discovered Sam and Jo (now Bear and Bunny). They looked exactly like our beloved Bootsie, and after a lot of tears, we knew that day that we had to have these girls."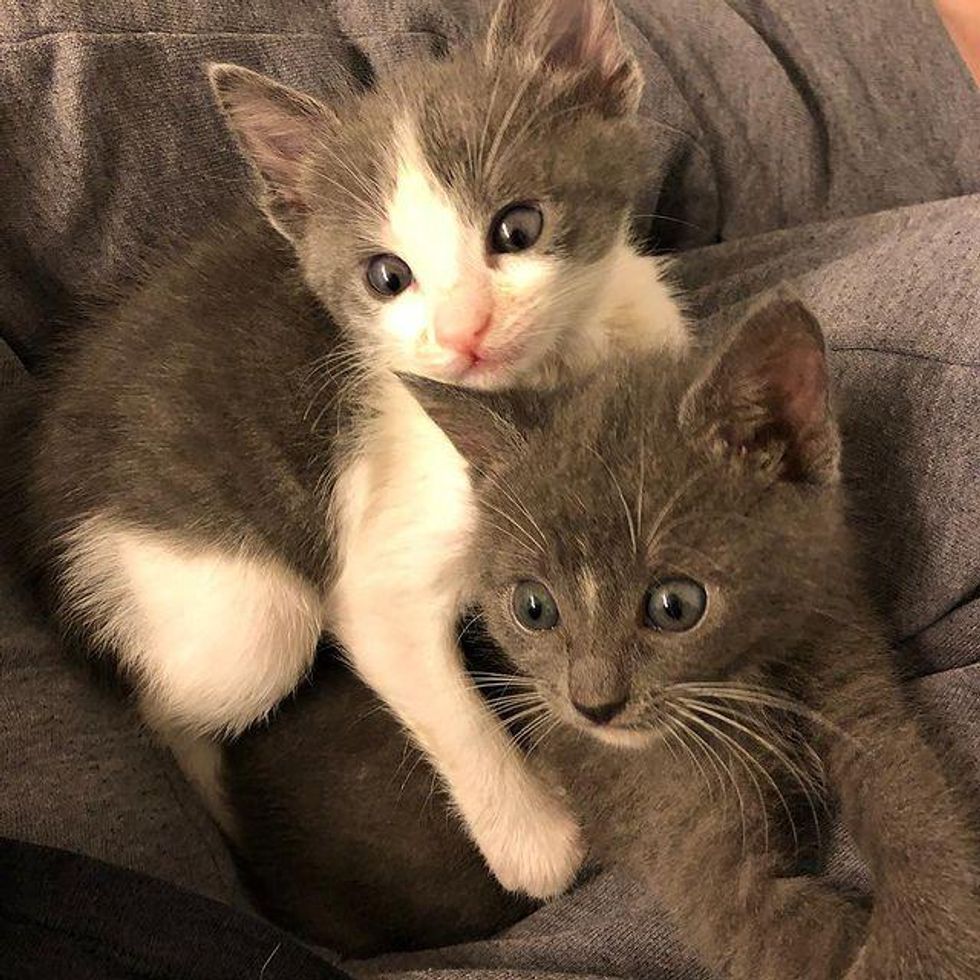 They found their forever home togetherLaura @fosterkittyfamily
Bear (formerly Sam) has blossomed into a gorgeous cat, and she is not tiny any more. She and her sister, Bunny, have been best friends since day one, and some things never change.
"According to their family, Bear is partial to male humans, which is pretty funny to me," Laura shared.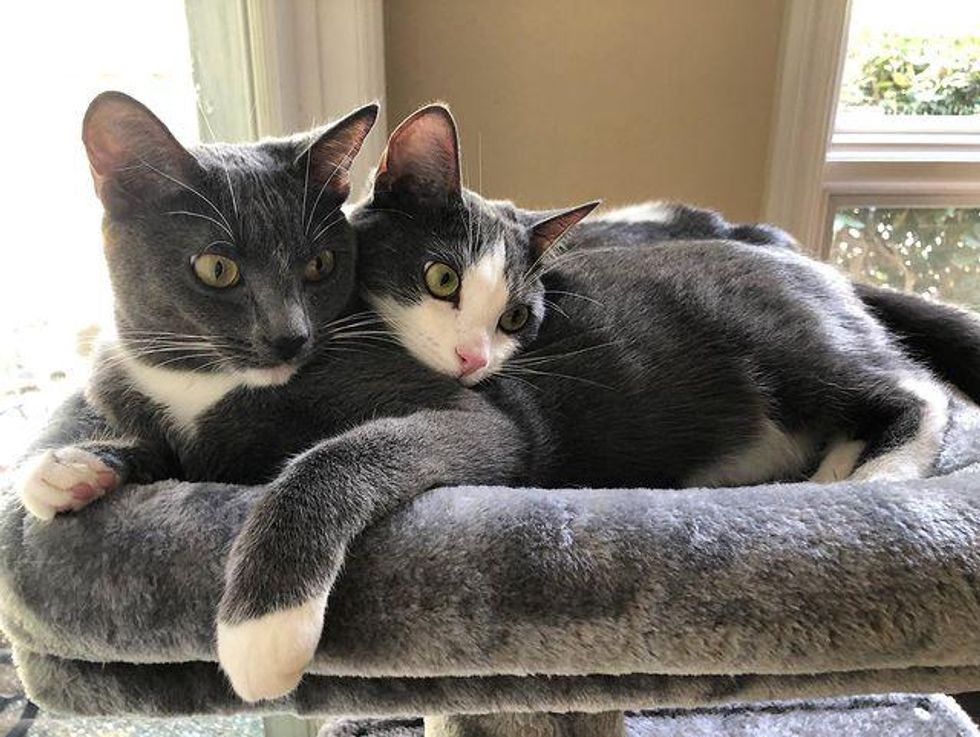 Sam and Jo (now Bear and Bunny) are all grown up@theplantpets
Share this story with your friends. Follow Laura's foster kitties on Facebook and Instagram @fosterkittyfamily. Follow Bear and Bunny on Instagram @theplantpets.
Related story: Orange Kitten Hops the Fence to Join Litter of Smaller Kittens and Decides to Help Raise Them
This article was originally published by Lovemeow.com. Read the original article here..